6
Jul
The History of a Vendetta
A vendetta begins and ends with a murder. A raw yet ritualised mechanism of justice that took root wherever the rule of law was absent or weak and persisted from antiquity right up until the modern era. For Yatromanokis it becomes a mechanism with which to explore a transitional period in Greek history that polarised the nation for the best part of a century.
The novel is set in Crete, in the space between the two world wars where, under the influence of Greece's arch-reformer Eleftherios Venizelos, the country was undergoing a chaotic modernisation. It is told from the point of view of Grigoris, the lame and rather simple son of the murderer Dikeos and victim of the inevitable reprisal from the family of the murdered Zervos.

The motivations for the killing are slowly unravelled in a non-linear fashion. Grigoris' life is not only flashing before his eyes, giving him freedom over time, but in response to his disability he has trained his mind to move freely where his body cannot. Through fragmented recollections we begin to trace the divergent paths of the murderer and the murdered; from shared beginnings as volunteers in Venizelos' civil guard we see how Zervos was able to take advantage of the nascent capitalism and how Dikeos was to suffer from it.
Translator Helen Cavanagh has done a superb job in rendering the novel's detached, almost forensic style. The careful depiction of events and its frequent forays into cultural, historical and even scientific wisdom evokes Herodotus. Coupled with Grigoris' freedom of space and time we have a narrative that is at once grounded and otherworldly. One might struggle to gain traction at first but once you do its possibilities become apparent.
Grigoris' simplicity has also liberated him from perspective and context. Folk tales are afforded the same importance as theories on capital, the activities of people are considered with the same attention and weight as the activities of Zervos' silkworms. This throws up beautiful, almost kaleidoscopic patterns of interconnectivity. With unassuming materials it conjures a staggering depth.
Although the sweep of Modern Greek history is central to the novel, and a short timeline is included at the rear of the book; such is Yatromanolakis' achievement here that no real knowledge is required to appreciate it. He has created an accessible, tangible world and its themes are deftly elevated to universality. This is a remarkable little book, authentically earthly and astonishingly ambitious.
29
Jun
Luttwak is not a Historian nor a Byzantinist – that's evident throughout The Grand Strategy of the Byzantine Empire. He is, though, a savvy political and military thinker and he applies himself to the Empire's thousand year struggle against limitless enemies in an energetic way.
Apparently in his previous, similar volume on the Early Roman Empire he made a misstep in describing a 'Deep lying' defense strategy. Here his thesis is far less controversial (perhaps self evident) that, as their military power waned, the Byzantines had to adopt more considered, indirect ways to manage their enemies.
There are omissions and strangely American sensibilities, nevertheless The Grand Strategy of the Byzantine Empire is terrifically interesting. Nowhere more so than in Luttwak's analysis of the Byzantine military manuals. It's here that he teases out the Grand Strategy and illustrates the great panoply of techniques deployed against the barbarians: Defeat but don't destroy (what fills the vacuum could be worse); the use of bribery and the sowing of discord; the importance of the navy and so on. Good stuff.
The Grand Strategy of the Byzatine Empire, available at AbeBooks from £12…
29
Jun
Having studied Byzantine history, I cannot help seeing history (where applicable) from the Byzantine perspective. This is tremendously beneficial; in most cases the Byzantine/later roman perspective is more interesting, more illuminating and more mature. At the same time it can be quite frustrating because, relatively speaking, it is a minority position. The majority of historians and history texts tend to be neglectful of the Empire, much to their and our detriment.
This came to mind when reading Shlomo Sand's The Invention of the Jewish People. A fascinating study of the history of the Jews and how Jewish scholarship became intertwined with Israeli state-building.
It covers all the issues you might expect: Zionism, the Khazar question etc. But it also makes an interesting assertion that reinforces the importance and influence of the Roman/Byzantine empire. Not only are Christianity and Islam inextricably linked with it, but the peculiar nature and extraordinary capacities of the Empire also gave us the Judaism we are now familiar with.
In tracing the movements of the Jewish peoples, Sand shows that, contrary to the idea that admittance to the Jewish faith is and always has been exclusive, during early roman times they were proselytising at a fantastic rate. The infrastructure of the Empire and it's religious tolerance created an atmosphere in which Judaism could prosper and quickly, as so many sources show, become a huge problem – almost identical to the later proliferation of Christianity.
The Invention of the Jewish People was thus a curious read. One that often displayed the kind of solipsism that frustrates, yet one that also exemplifies the importance of the grand, macroscopic view that emphasizes the importance of Roman/Byzantine history that properly unlocks the past and explains the present.
Invention of the jewish people, available at AbeBooks…
29
Jun
Money
Martin Amis
1984
BUY
There's always some wag who, when all other hacks are wondering whether Quentin Tarrantino or Damien Hirst or whoever has lost it, suggests that they never had it in the first place.
Being an icon: an occupational hazard of being iconic. You never know when you'll stumble headlong into an oncoming iconoclasm. You never know when you'll find yourself stunned and abandoned on the tarmac, blinded by emergency lights, your acolytes absent, while unfamiliar hands strip you of your clothes and your accoutrements of status.
When fellow author and fan Tibor Fischer reviewed Yellow Dog, Amis' 2003 novel, he described it, 'like your favourite uncle being caught in a school playground, masturbating.' Despite his disappointment Fischer seemed to remain loyal. But wouldn't you wonder whether there may have been something wrong with your uncle all along? Wouldn't it make you reconsider those time he came around to entertain you and your friends? The balloon animals?
Money was published in 1984, the perfect platform from which to insert itself into the decade's nascent self of itself. Money may be the definitive 80s novel and the 80s define Amis. He hitched a lift and found the leather runs smooth.
It begins in New York, where everything is something and knows how to makes itself heard. Cars shark, cabbies are bags of scum, tooth-aches stake out prime oral real estate and our newly arrived narrator, corpulent English consumer John Self, is wont to withhold and hamfistedly tease us with the narrative. It would be wrong to say that it's dense or overwritten, better that it's teeming with one and million one in a millions – but the effect is the same.
By the time a mirror 'looks on, unimpressed,' one can't help free-styling in the Amis fashion.
The doorknob turned almost too easily. As
if it knew. The Douche was out of the bag
now. The wank I took before lunch hadn't
worked. My testicles were tingling,
Crotch buoyant. Spunk-juggling.
This was just a few pages in.
But whilst he may leave a spongy flank exposed to parody, Amis is unquestionably a master stylist. Here he writes with an attentive viciousness, a sadistic relish. People and situations are mercilessly reduced to nubs of brutal shiny truth. It sounds like bullying and it is. If you can buy into it, it can be thrilling to stalk the halls, if you can't it will seem a brash and ultimately pointless exercise in power. You could make the case that this is a textual reflection of the age or of Self's predicament but that would only make it clever, not worthwhile. In search of respite I skipped forward a hundred or so pages.
You might wonder how this is possible. What of the plot? It's been said, and it applies here, that Amis is a great novelist looking for a story. What story there is is telegraphed in the first couple of dozen pages. Self has arrived in New York to make a movie but was informed as he left England that his girlfriend, an avaricious 'hot bitch' named Selina, is cheating on him, 'a lot'. He gorges himself on the excesses of the age, whilst trying to get a grip on the film and its cast. Characters plod through familiar arcs and all the while he is harassed by Frank, a mysterious phone stalker who blames Self for ruining his life. The movie will fail, Frank's somehow metaphysical nature will be revealed, Self's belief in money will play itself out. Things could go one way or another but you never really feel it's much of an issue. That you can skip so much and re-orientate yourself so quickly is testament to the weakness of the story but also to the abstract appeal of Amis' writing.
Ultimately the book feels too much like a contrivance; a meta-narrative on money, the decline of western civilization, the cultural shifts of the 80s and, when Martin Amis himself appears, on the novel as an art form. The insights are plentiful but the speed and frequency with which they come leaves them without mass, without weight. It seems to comment on certain trends whilst embodying them utterly. Again, some may be able to overlook these problems and for them this could be a fantastic book. But it's an act of generosity and generosity is hardly in the spirit of the thing.
29
Jun
Edgy, underivative British author breaks with tradition by going electric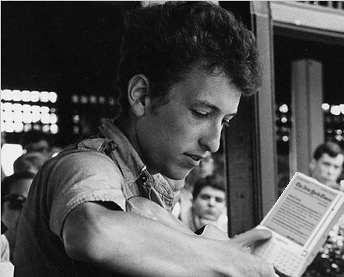 The Hay-on-Wye Literary festival descended into chaos then farce yesterday when edgy new British author Sebastian De la Proull broke with tradition and read extracts of his new novel from a Kindle, a type of electronic book.
This enraged the audience, comprised mainly of Guardian journalists, who hurled their blackberries and laptops at De la Proull before storming the stage to retrieve them and write their reports on the furore.
A bewildered De La Proull fled to safety but was eventually coaxed back by compere Alan Yentob. There were further delays however when the offending Kindle was taken to the Guardian Media Tent and the required pages printed out. With the crowd pacified, a clearly shaken De La Proull was able to read on from his novel, a trendy, underivative look at multicultural Britain.
Speaking later a Guardian journalist said, 'We come to Hay-On-Wye for the words. But they need to be on the paper, it's the spirit of the thing, you know? I'm no luddite, I have a Kindle myself. And a Sony e-reader. And an iPhone and iPod touch. I still have my first iPod classic and a Nano that i've had framed and mounted on my wall. But we come here to get away from all that, it's an important lesson for us all.'
Guardian News and Media lost over £25m last year

29
Jun
Most booksellers are married and/or have giant beards. This makes them effective at valuing books, less so at giving dating advice. Why is this a problem? Because more people should be using books to get dates. Consider this recent charity shop discovery:
A nice little Heron edition of Shakespeare's Sonnets which some guy had dedicated to some girl and included his phone number.
This guy was smooth. No awkward message or explanation; he gave the pertinents and let the book do the talking. And it has a lot to say. It's small, light and attractive, yet dense with beautiful words. And I know, having once sold a copy, that it's cheap (less than £5 including p&p).
Such a book is barely more expensive than a card and longer-lasting than flowers. As a gesture it's suave, sophisticated and if you want any more advice on using books to get dates you're going to have to hire me.
Shakespeare's Sonnets by Heron, available at AbeBooks for less than £5….
29
Jun
Whilst at an Auction viewing in Cambridge yesterday I came across the The Wonderful Magazine and Marvellous Chronicle
. I had to take a picture.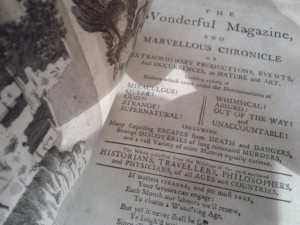 'OUT OF THE WAY!'
Tremendous.

RETURN TO STORE →