29
Jun
Towards the end of the fifteenth century the Dukes of Burgundy and their court developed a penchant for books of hours produced on black vellum. Of these peculiar books only four are thought to have survived. The Morgan Library have released an electronic tour of their copy here.

Black took on great significance in Burgundy when Duke Phillip The Good, unable to avenge the assassination of his father, began wearing the colour in pointed protest towards those he believed responsible. He is said to have cut a striking figure, clad in the latest flamboyant fashions yet always totally black. Naturally the colour became popular amongst the Burgundian court, its use extending to devotional books.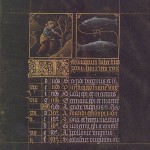 To create the black page parchment was bathed in an iron-copper pigment and then illuminated with silver and gold gilt. The work was done in Bruges by Flemish craftsman, apparently in the workshops of Willem Vrelant and The Master of Anthony of Burgundy.
These 'Black Hours' are masterpieces of medieval illumination – they are also profoundly weird. Much like Duke Philip, they bear familiar motifs yet are inverted; the illumination is brighter, the images more sinister.
The difficulty in producing these books meant that few were made and fewer still survived. The extant copies are in precarious condition. If the electronic version above is not enough the German publisher Facsimile Verlag produced a 2001 facsimile. The run was limited to 300 copies and I could only find one – at no small price.
The Black Hours Facsimile, available at AbeBooks from £7500…