Bookselling
29
Jun
Most booksellers are married and/or have giant beards. This makes them effective at valuing books, less so at giving dating advice. Why is this a problem? Because more people should be using books to get dates. Consider this recent charity shop discovery:
A nice little Heron edition of Shakespeare's Sonnets which some guy had dedicated to some girl and included his phone number.
This guy was smooth. No awkward message or explanation; he gave the pertinents and let the book do the talking. And it has a lot to say. It's small, light and attractive, yet dense with beautiful words. And I know, having once sold a copy, that it's cheap (less than £5 including p&p).
Such a book is barely more expensive than a card and longer-lasting than flowers. As a gesture it's suave, sophisticated and if you want any more advice on using books to get dates you're going to have to hire me.
Shakespeare's Sonnets by Heron, available at AbeBooks for less than £5….
29
Jun
Whilst at an Auction viewing in Cambridge yesterday I came across the The Wonderful Magazine and Marvellous Chronicle
. I had to take a picture.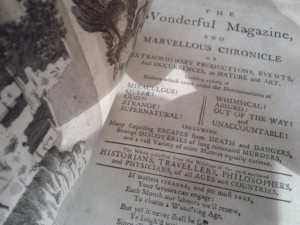 'OUT OF THE WAY!'
Tremendous.
29
Jun
I recently described a rather bad experience buying from AbeBooks (the worst packaging ever). But since I have bought dozens (hundreds?) of books from AbeBooks where the service was exemplary, I thought I'd better redress the balance.
One purchase in particular comes to mind. In one of AbeBooks' front page promotions I saw this this nice edition of Turgenev's On The Eve and managed to acquire a copy from Canadian bookseller Alex Simpson
.
Not only was the book well described, excellently packed and speedily dispatched (with a polite accompanying email); the bookseller also lowered the shipping (international airmail) since it was cheaper to send than expected.
I won't say the experience was revelatory because, as mentioned, almost all the service I've received has been excellent, but it reminded me that shopping for rare and used books can be different. It put me in mind of a earlier time, one of conscientious, bespoke service. Where someone diligently made sure you got what you wanted, even if it is a relatively cheap item.
In the days of Amazon, where broken warehouse employees are bossed about by algorithms, and the Megalisters, where books are bought and sold by the pound, we've lost that feeling.
This is not to say the Megalisters don't try to be helpful – in most cases they deal with problems quickly and generously; when I received an entirely different book to the one I'd ordered they refunded and let me keep the book (it was only fit for the skip, but still…)
These new, inhuman methods of selling books can be counterproductive. Books are not widgets, they are tactile, emotional, esoteric, beautiful objects. A lot of the value we place onto them is subjective, it's important that the seller appreciates this. Thankfully the great majority of AbeBooks sellers still do.
In such a competitive market we have to be aware of how we can add value. Offering a good user experience is one way and it starts before a book is even ordered.
29
Jun
Last christmas I bought someone a POD copy of Eddington's The Mathematical Theory of Relativity. This is what came through my door:
The book was literally hanging out.
The seller was a megalister, naturally. I shalln't reveal the name (because I can't remember it – their names blur together: Better2goFLYbOOks2ANYWORLDZ LLC) but this is pretty bad. I once received a (mis-described) Hardback from a megalister in America that came in a plastic bag but that, at least, was intentional.
Here something has obviously gone wrong with their machine but did no one notice? Even Amazon's freezing, starving packers would have caught that. (Providing the lights were on)
29
Jun
Towards the end of the fifteenth century the Dukes of Burgundy and their court developed a penchant for books of hours produced on black vellum. Of these peculiar books only four are thought to have survived. The Morgan Library have released an electronic tour of their copy here.

Black took on great significance in Burgundy when Duke Phillip The Good, unable to avenge the assassination of his father, began wearing the colour in pointed protest towards those he believed responsible. He is said to have cut a striking figure, clad in the latest flamboyant fashions yet always totally black. Naturally the colour became popular amongst the Burgundian court, its use extending to devotional books.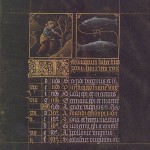 To create the black page parchment was bathed in an iron-copper pigment and then illuminated with silver and gold gilt. The work was done in Bruges by Flemish craftsman, apparently in the workshops of Willem Vrelant and The Master of Anthony of Burgundy.
These 'Black Hours' are masterpieces of medieval illumination – they are also profoundly weird. Much like Duke Philip, they bear familiar motifs yet are inverted; the illumination is brighter, the images more sinister.
The difficulty in producing these books meant that few were made and fewer still survived. The extant copies are in precarious condition. If the electronic version above is not enough the German publisher Facsimile Verlag produced a 2001 facsimile. The run was limited to 300 copies and I could only find one – at no small price.
The Black Hours Facsimile, available at AbeBooks from £7500…
29
Jun
Whilst this blog was on hiatus I kept an eye on The Campaign for Real Books, intending to write a follow-up to my previous articles on 'CAMBO'. Now I come to it, I find the presses silent, the campaigning has ceased.
This was particularly surprising. When a publicity campaign hasn't had any publicity for a year, things are probably not going well. It's worth taking a moment to consider the campaign in retrospect to see what went wrong and what it says about our understanding of eBooks.
The Campaign for Real Books was started in the same spirit as The Campaign for Real Ale – a successful movement to promote the production and consumption of traditionally brewed Ale. This bookish variant would involved advertising and collaborations with independent booksellers to ensure the survival of real books – what could be wrong with that? Everything.
Wherever there's debate on the merits of real books vs. eBooks there's someone declaring that books are old-fashioned and have been superseded. Often they're the tech'naive or digital-evangelist; newly converted, spreading the word with glazed-over eyes, glossy as Macbooks lids. Sometimes they're cynical; unpublished authors with a grudge or embittered bloggers crusading against the mainstream media, getting their shots in where they can.
Then there are those with good intentions. Those that want to extol the virtues of the humble book but damn it with faint praise. They love the smell and feel of ink on paper, the satisfaction of holding words in your hands – so delightful, so twee. They reinforce the idea that the book has become obsolete and we should preserve it as a kindness. Some will rally to the cause but the majority read such comments and assume the eBook is ascendant.
The Campaign for Real Books fell into such a trap. To claim that real books are in danger, is to present them as weak. To equate them to real ales puts them firmly but falsely in the category of the niche, boutique good. In reality eBooks sales are but a fraction of all book sales and their growth is stalling, but to jump so vigorously to the defense of real books indirectly increases confidence and awareness of eBooks. What they should have been doing was exposing some of the outstanding issue regarding the current eBook scene and why we should have less confidence in them.
To further illustrate their imminent extinction, The Campaign for Real Books compared Books to Vinyl records.
It's a prevailing trope: that books are analogous to the various out-dated media standards – after 600 years they have become Beta-Max. It's nonsense. Books are more than a storage medium, they are the delivery device and the interface. They create the physicality of the word in such an intuitive way that eReaders attempt to replicate it as accurately as possible – with mixed results. Whilst they offer some benefits, eReaders are very much a sideways step.
In contrast, The transition from records to tapes to CDs to MiniDiscs (or not) was progressive, it did not change the formula of how music was stored and played. One device and medium superseded the other with superior quality or capacity. Where one outmoded medium had an advantage – Vinyl's acoustic warmth for example – it will survive.
What characterises each of these transitions is that they were, in essence, natural. Record Companies, Electronics Manufacturers and Retailers would present the options and over time Consumers would make a choice as to what device was preeminent. Formats such as MiniDisc (and potentially Blu-Ray) could be rejected, it was not possible for a any particular faction to truly force a product onto the public. But times have changed.
We have a situation now where Amazon controls the marketplace, the electronics and, to a large extent, the publishers. Furthermore they have proven that they are prepared to take large losses just to take market share. And this is what is driving the recent eBook push, one companies attempt to dominate a market to an unhealthy degree. Had Amazon not developed the Kindle and allowed Sony, Kobo et al. to produce the actual eReaders we would not have seen half as much eBook activity. The soi disant eBook explosion has been driven by one company's desire to lock consumers into a walled garden and onto their proprietary device.
There's so much here for anyone campaigning on behalf of real books to get their teeth into. If Amazon had their way their stranglehold on the market would become a death-grip. Their DRM is restrictive and poorly understood. The concept of renting ones media as opposed to owning it has wide ranging implications (and not just for Bruce Willis). These are important and complex issues, ones that are obscured by the constant barrage of pro-eBook propaganda.
The last thing I saw from the Campaign for Real Books, aside from the defunct website, was a poster in which someone whose child is having a medical emergency needs to consult a help book but it runs out of power. Scaremongering, really? Opportunity missed.
29
Jun
I have been selling books for a relatively short time so whenever I detect a change in the business it's always strangely exciting and/or edifying. Or it would be if these changes weren't all for the worse. Thus far the most marked change has been in charity bookshops.
There's a deep seated antagonism between the charity sector, Oxfam especially, and secondhand book trade: They get their stock and staff for free; they make little money for charity yet spend more on refits that most booksellers make in a year; there's a statement floating about (apocryphal yet persistent) that Oxfam want to wipe out the used books business. etc. etc.
Yet my biggest problem is not with the existential threat posed by this ham-fisted, overly subsidized job-creation scheme. It's with their manic and shameful pricing strategies that affect me as much as a consumer as a competitor.
It's no longer a surprise to walk into a charity bookshop and see the base price of their cheapest books raised from 50p to £1, from £1 to £2. Each price jump usually accompanied by a new ever fresher face behind the counter – as if price is inversely proportional to their age (and distance from their GCSE Business Studies class).
Worse is the gentrification. It's just as common to pop into your local charity store and see the same books that were once humbly shelved now displayed proudly on stands with bibliographic data stuck on post it notes with inflated prices. Occasionally it's justified, usually it isn't. Usually it's slightly wrong and somewhat misleading. Soi dissant 'First Editions' are anything but. Other times the label may be technically correct but the book is obscure, unwanted and endured only one print run, it makes the whole thing exploitative.
Worse still is when they mention the price of the book online. The intention is to show that this book is a bargain (an investment) – even though there is no mention how it compares to those online copies in terms of condition etc. Yet, to me, it frequently seems like an excuse for their exorbitant prices – you think we're bad, look that this!
I recall especially being in a YMCA store run by trendy young things. Vintage clothes were hung over louche dummies, a collage of cut-outs from fashion magazines covered the roof, stickers from folk-festivals clogged the door frames. There was an elderly gentleman there too, with his wife. He wanted a WW2 book that they'd listed for £14 and couldn't understand why it was so expensive. He could get such books for £1 on the market, he told the young guy running the store. In reply he received a brief and slightly embarrassed explanation of market economics. No sale was made.
Now they have no books, save a wodge of 50p paperbacks to decorate the furniture. This is, in my experience, the upshot of hot-shotting prices: the tactic fails and books are removed from the stores or, if they were exclusively for books, they shut.
The gentrification of charity bookshops and shelves has reached the unlikeliest of places. In a town I shall not name – a more wretched hive of scum and misery you're unlikely to find – worn, dog-eared 1930s hardbacks are now displayed and curated as grandly as if at the Olympia Book fair. Get'em whilst they're overpriced because they won't be there for long.
29
Jun
Every now and then the discussion over whether or not you should watermark your images crops up (yes, we're looking at you, Guy).
The idea that your pictures should be tagged seems to be gaining ground and the ability to add a watermark to your images is something that is slowly being incorporated into bookseller's tools and CMSs.
As someone who had once made the decision to watermark my images and then subsequently abandoned the practice, I kept a keen eye on these discussions – though I rarely contributed.
This was because I had so many thoughts on the issue, they could only be done in long-form. So here it is…an analysis of whether or not you should watermark your images and the things you ought to bear in mind if you do…
Promotion
This was why I started watermarking my images, to promote my business. The trend in marketplaces is to minimise the presence and importance of booksellers, to reduce them to a field in a list of bibliographic data. By tagging your pictures you are putting yourself in front of buyers at a time when their interest has been piqued. It's a way to claw back your identity at AbeBooks, Biblio and co. ( but not Amazon, try it there and you might find yourself on an unmarked CIA plane to Seattle.)
This all sounds good but it's important to remember that how you watermark your images will effect how your are perceived.
I have seen examples with watermarks in awkward, blocky, low-resolution fonts, obscuring the book and even displaying the paranoia that someone will copy the picture. It's not the best way to communicate your brand.
What you want to project is competence and confidence. Whether I achieved that is debatable but my approach was to use a simple modern font (in tune with our other branding), neutral tan colour and a semi-transparent black shadow so that the text would remain legible no matter the background. For the text itself I chose the website address. This seemed less intrusive, less redundant and more efficient, since getting customers to your website is one of the goals of such promotion.
This raises another important point… They have to be good pictures in the first place. Any image is useful to the buyer but when you attach your name to one, the image itself can effect the perception of your business. A fancy logo atop a poor image may indicate strange priorities.
Theft/Misuse
When we take a picture of a book we are doing work in order to achieve a sale. So if someone takes one of our pictures, they are exploiting our work in order to achieve a sale. Despite having sold a small number of books compared to most booksellers I too have found my pictures being reused, predominantly on eBay.
This can grate. Especially if you have invested money in photographic equipment. Furthermore it is misleading to buyers. People expect a custom image to be of the book they are buying, so not only have they have ripped you off, they've tricked a customer.
But how much should we care about any of this? Whilst it is true that someone has re-appropriated your work I have never seen an egregious misuse of my pictures. An eBayer onced used a composite image I'd made for the Heron Dickens. Maybe they did not have access to a camera and it wouldn't be strange if the condition of their set was almost the same as mine, in which case not much harm was done. It helped buyers and the seller with no loss to myself.
I have yet to see an example of a bookseller at AbeBooks using another bookseller's picture. I don't know what the punishments are but I'm sure that they will exceed the small benefits. Similarly I have never seen an instance of a Megalister culling images from across the web and reusing them. If this sort of behavior were commonplace and without punishment then I could see the case for Watermarking your images but it isn't.
Workflow and other issues
As mentioned, there are systems available that will allow you to automatically apply a watermark to an image. If you are working with a sufficiently advanced graphics program there will be probably be addons or macros that can help the process along.
I do a lot of manual work with my images: cropping, rotating, airbrushing anomalies in the edges of the light tent. As such it was very easy to CnP in my watermark and position it. I always felt that if you applied it automatically the watermark could obscure something in the image.
The problem here is that if you are a perfectionist but not particularly swift or savvy with your editing program, the process will become too lengthy to be worthwhile.
Space is another thing to consider. You may want to keep an unmarked version of an image; I have had frequent need of pristine images for my own website. If you have several tens of thousands of pictures, doubling that number may cause problems in terms of storage and management.
It's not just you that may need an unmarked version of an image. AbeBooks frequently do promotions showcasing books from their listings. For practical and aesthetic reasons they will avoid any images bearing a tag. This may not be too large a concern though. Even if they cannot use your image for the promotion there's probably others to choose from, it will still create interest in that book and send buyers your way in the end.
Conclusions
There are many compelling reasons to watermark your images if you can do it in a pleasing and effective way. So why did I stop? In short I did not think the benefits were sufficient to justify the time spent.
Only a miniscule fraction of, say, AbeBooks visitors will look at your pictures. Of them only a minority will choose to visit your website. And of them only a minority will buy something. If you only have a small stock of books then the number of AbeBooks visitors looking at your pictures is small and the chances they will find something else to buy from you are again reduced.
We also have the problem of data. We have no way of knowing how many AbeBooks customers are looking at your pictures. We have no way of knowing why people visiting my website wrote 'AJ Scruffles' into a search engine – and these days most browsers' data is private, so we don't even know what their search terms were.
It might be the case that having thousands of watermarked images at AbeBooks and co. does generate a significant amount of traffic but until someone does a controlled test (monitoring their traffic over a period when their images are watermarked and a period when they are not) we can't know.
I also think that aesthetically I turned against the process. Few if any of the most attractive booksellers' websites feature watermarking on the images. If you scroll down you can see a mixture of watermarked and non-watermarked thumbnails on this page of my site: http://www.aj-scruffles.co.uk/leather-books-special-editions/ . To my eyes the tiny unreadable text atop the images is rather ugly.
29
Jun
I finally read the Lucy Mangan article that mentions the Campaign for real books and, sadly, it was as counter-productive as I expected it would be. As the erstwhile guardianista waxed and waned above the plastic rim of the eReader, the readers' comments turned it into a full on advert for Amazon.
There was eloquent testimony about the ease of the Kindle, its eco-friendliness and even, in one case, the Lazarus like resurrection of an infirm women's love of reading – apparently the Kindle has got her attending book groups and Amazon's 'you might also like…' is a bonafide miracle. I don't mean to be snarky about what is a happy occurrence; as I said before, for some people eReaders are a godsend. But the truth is these people are outliers – an online article that meekly pitches real books against eBooks, who do you expect will comment upon it?
There was no challenge to claim that eBooks are better for the environment (as things stand, they're clearly not) and there was only limited deconstruction of people's anecdotal yet strident support for the Kindle. The Campaign for real books was on a hiding to nothing here. When you meekly pitch real books against eBooks in an arena that is biased towards the latter, only one thing is going to happen. Similarly there was no exploration (or even acknowledgement) of the cultural dangers of an Amazon hegemony, only a confusing and/or confused comment about authors earning less money despite prices remaining the same.
Mangan closes with a telling remark, "of course" she's going to pay the subscription to Cambo, of course, but at the same time she'll open her mind to eBooks. Isn't this what people predicted? Instead of actually highlighting the problems with eBooks, The Campaign for real books somehow ends up a salve to people's consciences in an imaginary dilemma. Behind the scenes the wheels keep turning.

RETURN TO STORE →