Recent Acquisitions
28
Jun
People often ask how I feel about the books I buy. Do I like them all? Am I sad to see them go? Do I read them?
As we romanticize books we blur the boundary between collector and dealer. we tend to think that someone that spends their time around such objects, storing up arcane knowledge on their production and provenance, would share the passions of the collector (and where sexy occult stuff is concerned, exceed them).
Reality is a little different. The profit motive may be a base urge but it's pretty strong, able to nix our nobler inclinations. But whilst I have met dealers who were one fuzzy loincloth removed from cavemen, I have met others to equal A.S.W. Rosenbach
. Most come somewhere in between.
This has been on my mind recently, ever since I acquired a number of volumes from the Heron Deluxe red leather Dickens
I had wanted to get my hands on these books for a long time. Heron made a very small number of these Deluxe leather editions and I had sold some previously: Macaulay's History of England and Austen's novels. Getting to finally inspect them was a nice experience.
But I did not want to keep them. I wanted to learn about them then let them go and, in doing so, learn something about their desirability. It's a different kind of collecting; it wasn't objects I was after but neither was it pure information, it was something more… Booksellers are collectors of experience.
We want to know about the content of the book and its material aspects. We want to know about its provenance and production but we also want to know where it is going. We learn about the market, how much is a book desired? We speculate why. All this data is accumulated and stored as assiduously as the collector fills his shelf. But in order to fully know a book it must be relinquished; our shelves are bare. The contented bookseller sits in an empty bookstore. A collector of experience. A collector of bookshelves.
28
Jun
Experience has taught me that when in doubt: buy.
So when I came across this strange piece of ephemera (?) relating to the Pickwick Papers, I bought.
Entitled 'The Handbook of The latter Day Pickwick Society – otherwise know as the Smoo Pilgrims', It's a slim green cloth volume, inexpensively but professionally bound.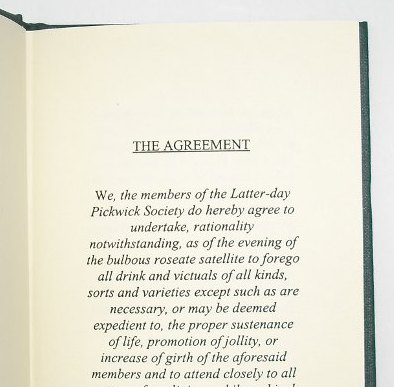 Being only casually acquainted with The Pickwick Papers, my first hopeful thought was that someone had created a piece of literature referred to in Dickens' novel.
Now I've had a proper look it appears that these are the rules of an (undergraduate?) society loosely based on that described by Dickens, one whose members travel to places with amusing names where they take afternoon tea, whimsically of course.
Not especially interesting then. But if I hadn't bought it I'd still be wondering about it. Peace of mind for 50p is not too bad.
26
Jun
I've never been particularly interested or amused by miniature books. But when I saw this set of miniature Shakespeare by Burgess and Bowes, I had to have them.
Burgess and Bowes have made many miniature Shakespeare sets but I have never seen this binding before. Were it not for the typical B&B titling to the spine, I might have thought this a custom set.
What I like most is that there is no overriding colour scheme or style. Colours clash; some volumes have thick black lines, others don't – yet, somehow, it all seems to fit together in a Yellow-Submarine-ish type way.
25
Jun
I picked up this volume primarily because it is a nice object – an attractive full leather 1846 edition of Homer's Iliad printed by William Pickering. But there is more to this book than meets the eye.
William Pickering was an innovative publisher. He made advances with typeface and print quality and, perhaps most significantly, he introduced cloth bindings. But Pickering was concerned with more than the physical. Something of an idealist, he made it his mission to propagate scholarly and important works.
This was very much in the tradition of the great Venetian publisher Aldus Manutius, who gathered to him Greek scholars and teachers fleeing the collapse of the Byzantine Empire, in order to preserve their legacy, and in doing so, helped fuel the Renaissance of Western Europe.
Pickering was very much an heir of Manutius and this book is an example of the civilizing influence publishers could and still can wield. And note Pickering's device on the title page: the Dolphin wrapped around an anchor. The same symbol of Manutius' Aldine Press.
Homer's Iliad printed by William Pickering, available here…
Volumes from the Aldine Press available at AbeBooks…

RETURN TO STORE →