28
Jun
Experience has taught me that when in doubt: buy.
So when I came across this strange piece of ephemera (?) relating to the Pickwick Papers, I bought.
Entitled 'The Handbook of The latter Day Pickwick Society – otherwise know as the Smoo Pilgrims', It's a slim green cloth volume, inexpensively but professionally bound.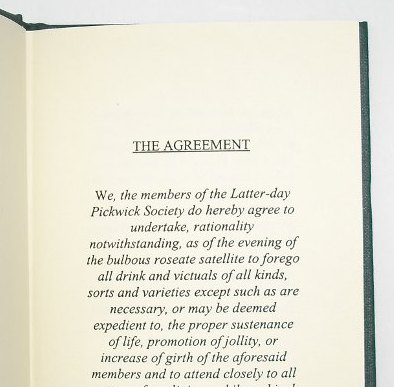 Being only casually acquainted with The Pickwick Papers, my first hopeful thought was that someone had created a piece of literature referred to in Dickens' novel.
Now I've had a proper look it appears that these are the rules of an (undergraduate?) society loosely based on that described by Dickens, one whose members travel to places with amusing names where they take afternoon tea, whimsically of course.
Not especially interesting then. But if I hadn't bought it I'd still be wondering about it. Peace of mind for 50p is not too bad.